Ellucian Banner Consulting Services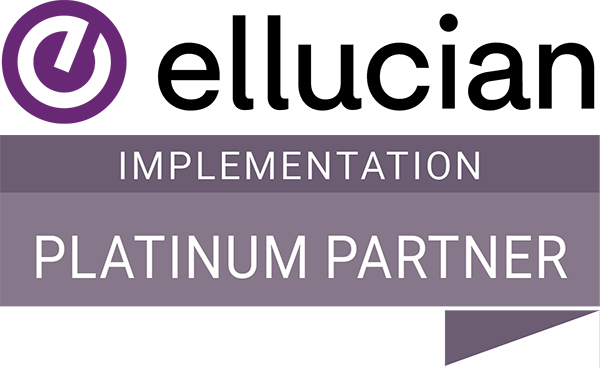 As an Ellucian Platinum Implementation Partner, our seasoned and experienced Ellucian Banner consultants have a deep understanding of all Ellucian products' functionality from recruiting to enrollment, to alumni relations, whether you need a little help or a lot, we're here to guide your success.
Our comprehensive Ellucian Banner consulting solutions include:
Functional
Implementation
Training
Operational Performance Maintenance
Backfill/Staff Augmentation
Project and Change Management
Technical
Ellucian Experience
Ethos
Integrations
Data conversations
Reporting
Application Security
Custom Programming
Banner Extensibility (development, training, and support)
Workflow
Imaging
Strategy & Process Improvement
Our Ellucian Banner consultants will develop strategies that improve student engagement, automate manual processes, and leverage technology investments.
Implementation
Our dedicated Higher Education Banner consultants have expertise in providing implementation services for Ellucian Banner full suite of products.
Optimization
By automating manual processes, we can help improve the performance and productivity of your Ellucian Banner ERP.
Migration & Consolidation
If your institution is moving to a private cloud or consolidating multiple Banner instances into one, our seasoned Cloud Architects can help.
Integration
Transform your decision-making process by connecting out of the box software, custom applications, SaaS products, infrastructure instances, and devices with the help of our expert Ellucian Banner consultants.
Training
Boost Ellucian Banner adoption rates with customized training.
Maintenance
Ensure your Ellucian Banner ERP is properly supported and maintained with our Operational Performance Services (OPS) – a turn-key subscription service to maintain and leverage Ellucian Banner.
Support Services
Our seasoned Ellucian Banner ERP Higher Education consultants can help provide a myriad of custom and scalable solutions, from: migrating to a private cloud; leveraging current cloud with modern strategies that take full advantage of all native cloud features; and full, scalable, and customizable support to keep your systems secure, up and running, and optimized for performance and cost.